Catholic Foundation of Utah
Dear Friends,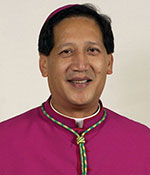 Greetings of Christ's peace and love to everyone! The couple of weeks since I finally set foot in my new home here in Salt Lake City has been an awesome experience of God's tremendous and indescribable blessings. No words seem adequate to express my appreciation for the marvelous welcome you have extended to me since my arrival in Utah. The warm hospitality for my family and numerous guests truly surpassed all expectations. They were captivated by the beauty of our Beehive State and left with so many happy memories that they cannot wait to come back.
The magnificent music and liturgical beauty of the Vespers and the Installation Mass were beyond my imagination. All my guests have nothing but high praise for such celebrations – well planned and coordinated, very reverent, spiritually uplifting, and the singing was angelic. The invitations for the events, programs and publications were truly impressive. The receptions, with such abundant refreshments, were delightful. So, too, the media coverage put on display the richness of our Catholic heritage.
These events were truly outstanding because of the dedication and hard work of our diocesan and cathedral staff under the leadership of Msgr. Colin F. Bircumshaw, who served so well as Diocesan Administrator along with the support of the clergy and religious, and participation of so many of the faithful. No doubt it is but one of the manifestations of God's blessings for all of us and for our local Church, which gives me the joy and inspiration to be your humble shepherd. How lucky and fortunate I am to have able partners and dedicated fellow ministers in our mission of evangelization.
Your spirit of collaboration, unity and solidarity is worthy of commendation and I thank you for your generosity with all my heart. Please know you have my sincere appreciation and deepest gratitude for all your love and support. I will long remember the joy of these days and treasure all the beautiful memories we shared together as a faith family, which will be my inspiration and strength in my pastoral ministry.
You will be in my prayers, and I humbly ask that you keep me in yours. Together let us lift our hearts to our loving God, that through the intercession of our Blessed Mother, our Lady of Guadalupe, he will continue to bless us and our spiritual journey so we may be able to carry out faithfully and joyfully our mission of proclaiming the Gospel to all people.
Sincerely yours in Christ,
+ Bishop Oscar A. Solis